Awarded: 1st Place, HackVT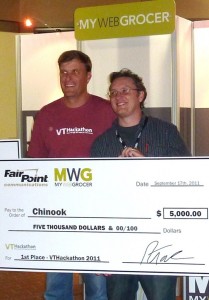 MyWebGrocer hosted a 24-hour hackathon September 16, 2011 at the Champlain Mill in Winooski, Vermont — the state's first such event – with game developer John Pile taking first place and $5,000 from Fairpoint Communications for his creation of a grocery shopping game.
Participants worked on their own or in teams of two or three people using one or more of MyWebGrocer's API's (including recipe, grocery product, mobile, social and advertising web services) to build anything they wanted within a variety of different platforms, including web, mobile and Facebook. Round-the-clock food and beverages were served from local vendors.
Coding carried on through the night and into the next morning, and around 3 p.m. on Saturday projects were completed. Participants presented their creations to the judging panel, featuring local business professionals Rich Nadworny, owner of Digalicious; Julie Lerman, author, speaker and owner of The Data Farm; Cairn G. Cross, co-founder of FreshTracks Capital; Jon Woodard from Wolfram|Alpha; and Tim Kenney, COO of MyWebGrocer.
The $5,000 grand prize award went to John Pile, Team "Chinook," (pictured with Richard Tarrant Jr.) who created a grocery shopping game using live pricing and nutritional information. The game's objective is to feed your kids and find a balance between healthy food and happy kids while staying within your budget.
Full Story: